We provide innovative and outside the square solutions
At Redco Consulting Professional Engineers we have been providing general engineering design and consulting services throughout New Zealand since 1993. Our services include structural engineering design, fire engineering design and seismic assessment and strengthening. We have offices in Auckland, Tauranga and Hawkes Bay and employ over 20 staff.
We have built a reputation for cost-effective solutions for building projects. We focus on building strong working relationships with our clients. Our dedicated team of professional engineers have extensive experience providing innovative solutions for residential, commercial, industrial and agribusiness developments. In addition we provide engineering design for other applications including swimming pools, tents, sunshades & canopies, retaining walls, container based buildings, prefabricated modular buildings and steel water tanks.
Our offices are well appointed with fully-networked computer facilities for analysis, design, draughting and general office duties. With these resources, no project is too small or too large for us. At Redco we are all about giving our clients an ingenious, cost-effective solution for their building projects.
Our History
Graham Rundle is the founding Principal of Redco and is a Professional Engineer as well as being responsible for the overall direction of the company.
Graham graduated with a Bachelor of Engineering (Civil) from Canterbury University in 1970. He held his first graduate position with Beca Carter Hollings & Ferner before heading overseas for his 'OE' (Overseas Experience). In London he gained valuable experience working for a number of consulting engineering practices. In 1975 he returned to New Zealand where he joined Dukker & Potter Ltd as a Graduate Engineer. In 1981 he accepted a Directorship of Dukker & Potter Ltd. Graham moved to Tauranga in 1983 to establish branch offices for Dukker Potter Swan Ltd and Dukpot Services Ltd.
In 1992 Graham struck out on his own practicing as Graham N. RUNDLE, Professional Engineer Ltd. This practice has quickly grown into what we now know as Redco.
Our Vision
Service excellence, in the provision of effective, professional, engineering solutions.
Our Mission Statement
To excel at providing our clients with appropriate, cost-effective, professional engineering solutions to their building project needs, on time and within budget.
While striving to meet our client's needs,
we also recognise the need to:
Work within the laws of the land
Respect the environment of the planet and seek sustainable solutions
Continue to upgrade our knowledge and technical expertise, and to develop the potential of our team members
Maintain a safe, healthy and fulfilling working environment
Honour the ideals, and be bound by the ethics, of the engineering profession
Maintain a high and current level of technological resources
Build and maintain a profitable, viable company to ensure we can continue to service our clients' needs
Be a good corporate citizen of our community.
Our commitment to quality
We provide high quality professional engineering services to our customers:
We listen to understand our customers' requirements
We provide realistic deadlines to meet our client requirements
We aim to consistently meet or exceed our customers' requirements and timeframes
We provide quality professional engineering services based on sound engineering principles, which deliver cost-effective solutions
We present all calculations and drawings in a clear, concise and professional format
We are continually improving our processes and systems
We ensure all our staff are properly trained in their fields of expertise
We involve all our staff in the ongoing improvement of our quality systems.
We value our environment
We recognise and respect the need for sustainable management of the planet's resources and endeavour to minimise adverse environmental impacts of our engineering activities for both present and future generations:
We use resources efficiently
We endeavour to minimise the generation of waste and encourage environmentally sound re-use, re-cycling and disposal
We recognise adverse impacts of our engineering activities on the environment, and seek to avoid or mitigate them
To help reduce our carbon footprint we have Toyota Prius hybrid vehicles available for staff use.
We comply with or exceed the applicable corporate, environmental legislative and regulatory requirements and are committed to continually improving our environmental performance.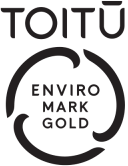 We have completed the
Toitu Envirocare
certification programme achieving
Enviromark Gold
. Through this programme we focussed on improving our environmental performance and resource use efficiency.